Product available at supplier: We'll order this in for you, and dispatch within 4-6 working days. If you have ordered anything else, we will hold your order until your pre-ordered stuff comes in, and ship the whole lot together. Don't worry, we'll keep you updated throughout the whole process!
In Stock, Ready for Dispatch!
Choose your shipping option at checkout:
Express Next working day (Not weekends or bank holidays), requires signature
Economy 2-5 Working Days, may require signature
Skate now, Pay Later with Klarna!
Spread the cost over 3 installments or pay nothing for 30 days.
Click here
for more info!
Available for collection instore today!
Just select "Pick Up From Bristol Shop" when you check out.
Click here
for directions and opening times!
Bought a few things from Vandem over the years. Brilliant, speedy delivery every time to Ireland. Last order was put in on Friday and it arrived on Monday, 2 days early!
- Street Slasher Wax, March 10, 2023
Arbor Drop Cruiser Photo Drop-through Longboard
The new, revised and updated Drop Cruiser from Arbor. 
A subtly shaped directional double-drop longboard, with a lower platform for ease of push on long commutes, cruising, and freeride. 

A great jumping in point for first time skaters or for the experience skater seeking an easy pushing setup with bags of comfort for a chilled ride.
9 plies of Canadian maple make this a well-built and solid deck, set up with decent components that's a steal at the reduced price. If you're interested in any long distance pushing but not ready to drop a few hundred on the Pantheon, this one will do you a great service.
We have had customers build this up with bigger wheels without any wheelbite issues, including Cult Cultrons and Orangatang Kegels.
Arbor Drop Cruiser Photo Drop-through Longboard: Complete Spec
Wheels: 69mm 78a Arbor Easy Riders
Trucks: Paris Trucks 50° 180mm
Bearings: ABEC 7
Useful Extra Info
Arbor Drop Cruiser Photo Drop-through Longboard Reviews
Customer Reviews
11/27/2023
Tim C.

United Kingdom
Arbor Drop Cruiser Photo Drop-through Longboard
Awesome, quick delivery, great notifications, great product at a great price. What's not to love, thanks guys
06/21/2023
Will S.

United Kingdom
Arbor longboard
I love my new board and was very pleased with the whole ordering and delivery process!
06/19/2023
Daniel E.

United Kingdom
first time long boarding for me and my 8yr old - nailed it!
I researched which board to get for hours / days... I eventually phoned up for advice on a couple of occasions, after pouring over the vandem website. I'm aged over 40 and clueless about boards, but Matt helped me come to a decision with plenty of friendly suggestions and expert knowledge. the web pages gave me loads to consider and the calls really helped me to know what I wanted (in the end it was the Arbor drop cruiser over the lush freebird). when the board arrived promptly I was up and riding in no time - wooaaah! I was blown away by how easy and how much fun it is! following Matt's advice I also bought a lush fuel for my 8yr old son with softer bushings - it was unbelievable to see him skating, cruising and generally in control of the board within an hour - we ride to school together on most mornings now - thanks to Matt and vandem! much appreciated :)
05/30/2023
Victoria L.

United Kingdom
Kind, un-judgey, helpful - what more can I say?!
I am so grateful to Matt for all his help and advice- I'm a 48 larger lady and felt listened too with no judgement whatsoever. Super friendly advice via email, and the board is perfect for me- it's going for a proper spin this evening in the Newquay sunshine- thanks again Matt!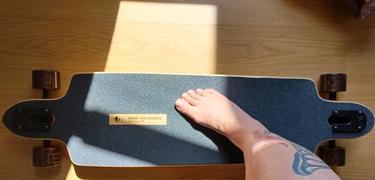 03/11/2023
Michael D.

United Kingdom
Arbor Drop Cruiser Photo Drop-through Longboard: Cheaper Elsewhere?
We'll price match any price from a UK-based retailer, on or offline!
Just fill out the form below and we'll get back to you.
10% off: With hundreds of product descriptions and thousands of product details on our site, typos can occasionally slip through the net. We're only human! If you can find one - or an incorrect product detail - let us know and we'll send you a code for 10% off.
Thanks for helping keep Vandem shipshape.
Tap to get in touch: