Zealous Bearings - BuiltIn
For a few years now Zealous have been something of a "go to" option for the longboard scene. They offer a great high end bearing at a budget price, keeping you rolling at top speed without having to break the bank.
The builtin spacer feature means you can ditch your separate spacers. No need to do the jiggly wheel thing to line up your spacers making your wheel swaps faster on the uplift bus.
Zealous bearings feature a standard "2RS" rubber shielding arrangement, like Bones Bearings and many other popular brands. They are shielded on both sides so if you destroy a shield whilst cleaning them, you've got a spare if you need it.
Like a lot of bearing brands, Zealous can't resist a bit of extra meaningless marketing:
Zealous say: 

"-The unique feature of our lubricant is how the nanoceramic compound fills in deformations or asperities in the bearing. These deformations cause friction and heat around them which hardens the nano-ceramic compound to that specific area. This micro coating is 5 times the hardness of the host alloy and has a molecular bond with the host metal, filling in all the asperities and eliminating friction over time.
-The coefficient of friction is the lowest in the field of Tribology at 0.003% creating a near frictionless surface. Mainly because the nanoceramic compound eliminates all asperities.
-Extremely low water washout
-Corrosion on the inside of the bearing is nearly eliminated."


Whether you believe all the stuff about NanoCeramic wotsits is up to you - despite all the extra marketing hype, we really recommend Zealous bearings, they are used by skaters all over the world and represent seriously good value.
If you want pretty much the same thing with better sealing and easier cleaning, check out the Sabre Built In Race Bearings.
If you want to splash some cash, check out the Zealous Ceramic Bearings for only a few quid more!
Bearing

Zealous Classic


Number of balls

7

Ball Material

Race Material

Chrome Steel

Nylon
N/A

Rubber (

2RS

)

Number of Shields

Two per bearing

Includes Spacers

Yes (Built-In)


Made in

China
Useful Extra Info
Zealous Bearings - BuiltIn Reviews
Customer Reviews
10/23/2023
Zach H.

United Kingdom
Great Bearings
Great bearings and the description on your website 100% sold it for me. Thank you!
02/13/2023
Elliot B.

United Kingdom
Zealous bearings
Until someone invents a bearing that lasts forever with no Maintenance these are the next best thing. Zealous bearings run smooth and are lovely and quiet. Basically as good as longboard bearings get. Affordable enough to have a couple sets so if it's a rainy day and you can't skate, stick in a new set and clean the current ones (that way you're always ready to roll). No speed rings or spacers to ping under stuff either which is a great bonus too .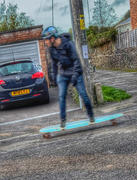 01/31/2023
Darren B.

United Kingdom
Good service.
The service was nice and swift from these guys. I've only used the bearings just on a quick test ride on fitting them so can't really give a full review but they seem nice so far.
10/01/2022
James F.

United Kingdom
Top of the pop bearings
They do exactly what I need them to do. Quite and smooth.
12/01/2021
V W.

United Kingdom
Long board bearings for a pram
Online purchase, no hassle, came quick, delivery cost was less than postage. Cheers
Zealous Bearings - BuiltIn: Cheaper Elsewhere?
We'll price match any price from a UK-based retailer, on or offline!
Just fill out the form below and we'll get back to you.
10% off: With hundreds of product descriptions and thousands of product details on our site, typos can occasionally slip through the net. We're only human! If you can find one - or an incorrect product detail - let us know and we'll send you a code for 10% off.
Thanks for helping keep Vandem shipshape.
Tap to get in touch: