Product available at supplier: We'll order this in for you, and dispatch within 4-6 working days. If you have ordered anything else, we will hold your order until your pre-ordered stuff comes in, and ship the whole lot together. Don't worry, we'll keep you updated throughout the whole process!
In Stock, Ready for Dispatch!
Choose your shipping option at checkout:
Express Next working day (Not weekends or bank holidays), requires signature
Economy 2-5 Working Days, may require signature
Skate now, Pay Later with Klarna!
Spread the cost over 3 installments or pay nothing for 30 days.
Click here
for more info!
Available for collection instore today!
Just select "Pick Up From Bristol Shop" when you check out.
Click here
for directions and opening times!
Best longboard store in the UK!
- Leo DiNanno, September 08, 2023
Sabre Trucks Mk3 Forged Precision Hanger (Single)
If you already own a set of Sabre Trucks and you want to bring them bang up to date, the new Mk3 Forged Precision Hanger is what you need!
Compatible with all Sabre baseplates, the Mk3 Forged Precision Hanger features:
Precision ground axle studs for minimal bearing slop
Dead-straight axles for longer wheel life and better grip
CNC'd pivot for a smoother turn
More open bushing seat for better lean and dive (you may want to go up a bushing durometer if you are coming from the cast Standard 48)
Forged from 6060-T6 aluminium for maximum strength and stiffness!
Available in 150mm and 180mm widths to match your deck width.
We're always saying that trucks are the most important part of your board... if you already have a setup with Sabre's on, a pair of these hangers is serious value for money!

Sold individually, so please add two to your cart for a pair of trucks.
Useful Extra Info
Sabre Trucks Mk3 Forged Precision Hanger (Single) Reviews
Customer Reviews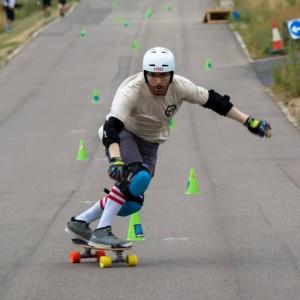 AI
04/20/2022
Alex I.

United Kingdom
Confidence inspiring, right out of the box
I've handled several sets of the gorgeous Forged hangers over the years, but never actually rode them. So I thought it fitting that just in time to setup my Lush Longboards Slayer deck for a special project, that these MK3 hangers were released. I paired them with the Sabre CF-38 baseplates and despite not having ridden a geometry like this for nearly 10 years, I was riding them up and over 50mph in a 4 person draft train within a few hours. Setup: negative rake, with the minimal riser needed for the 38 plate, on 80mm Kegels. For bushings, my gold standard of Venom Freeride boardside and Barrell roadside worked perfectly and avoiding wheelbite. Thanks for the speedy delivery too :D
Worlds Fastest Hanger
If it aint broke dont fix it... wrong! Mk1 was great Mk2 is even better. I feel extremely lucky to have a British co. that makes great gear and delivers lightning fast. Thanks guys.
Nippy but stable
Been using the mk1 180mm for a few years now and loved them. Now with the new ones out I wanted to see if 170mm axles would change anything for and it did. That difference plus the general build quality make for a fantastically nippy but supportive ride through tight corners. Plus these hangars are compatible with the mk1 baseplates so I saved a bit too. Great kit, great service, great ride.
Sabre Trucks Mk3 Forged Precision Hanger (Single): Cheaper Elsewhere?
We'll price match any price from a UK-based retailer, on or offline!
Just fill out the form below and we'll get back to you.
10% off: With hundreds of product descriptions and thousands of product details on our site, typos can occasionally slip through the net. We're only human! If you can find one - or an incorrect product detail - let us know and we'll send you a code for 10% off.
Thanks for helping keep Vandem shipshape.
Tap to get in touch: