In Stock Now!
In stock with supplier! Estimated despatch in 4-6 working days as we need to order it for you.
Product available at supplier: We'll order this in for you, and dispatch within 4-6 working days. If you have ordered anything else, we will hold your order until your pre-ordered stuff comes in, and ship the whole lot together. Don't worry, we'll keep you updated throughout the whole process!
In Stock, Ready for Dispatch!
Choose your shipping option at checkout:
Express Next working day (Not weekends or bank holidays), requires signature
Economy 2-5 Working Days, may require signature
Skate now, Pay Later with Klarna!
Spread the cost over 3 installments or pay nothing for 30 days.
Click here
for more info!
Available for collection instore today!
Just select "Pick Up From Bristol Shop" when you check out.
Click here
for directions and opening times!
Board is a real beauty , purchased for one of my grandsons following in the the footsteps of his father and two uncles all borders and skaters . This would grace any setting.  The only down side was it was delivered to wrong address and email from dhl stated I signed for it. The problem was it was the house it was left at has been empty for 9 years so board left outside and receipt false. I called dhl and gained no satisfactory answer . If I were you guys would suggest having a word with couriers especially as coming up to crimbo . But that aside great board
- Bob Adcock, October 18, 2022
Product ordered: Lush Longboards Mako Pintail Longboard
Landyachtz Stratus Sanctuary 46" Dancing Deck
The same Stratus dancing deck that you know and love, now pressed in all Canadian maple for a smoother ride and increased durability. It has a snappy flex, symmetrical shape and big, mellow kicktails for all of your freestyle and dancing needs.

If you want something smaller, be sure to check out the Tony Danza Spectrum or Watercolour
100% Canadian Maple
Sanded Wheel Wells
Kicktail
Medium Concave
Multiple Wheel Base Options
Symmetrical
Useful Extra Info
Landyachtz Stratus Sanctuary 46" Dancing Deck Reviews
Customer Reviews
11/23/2023
Adam P.

United Kingdom
Beautiful
Just a gorgeous looking board. Newbie, so still terrible at riding it, but happy to just own it at the moment. Amazingly fast delivery, thanks.
10/10/2023
Joanna D.

United Kingdom
Dancing deck
Haven't used yet but super excited, absolutely stunning deck
07/06/2023
MR A.

United Kingdom
Great service and prompt delivery
The Vandem team were very helpful and friendly. The delivery was faster than expected meaning I could use the board on the coming weekend. I am used to down hill boards, in comparison this board is smooth and a lot of fun to carve and dance on. It's not the most flexy board I've used, but more than flexy enough for enjoyable cruising and dancing.
05/31/2023
Aaron C.

United Kingdom
Honest Review of the Landyachtz Stratus Sanctuary
So as a experience dancing longboarder, I've never seemed to be more amazed than I have with or amazed and I have with this board so unlike the alarm so unlike the other boards I have ridden on in the past I feel is this one has probably become a new personal 3 become a new personal favourite of mine not only with the the design at the bank butts with the the smoothness of the ride and the Comfort of the ride, Would I suggest this to anyone?, I definitely would say this is something I would recommend on upgrading to a dancing longborder I think think I would definitely come back and get another one just in case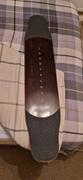 Landyachtz Stratus Sanctuary 46" Dancing Deck: Cheaper Elsewhere?
We'll price match any price from a UK-based retailer, on or offline!
Just fill out the form below and we'll get back to you.
10% off: With hundreds of product descriptions and thousands of product details on our site, typos can occasionally slip through the net. We're only human! If you can find one - or an incorrect product detail - let us know and we'll send you a code for 10% off.
Thanks for helping keep Vandem shipshape.
Tap to get in touch: